You must first pass the theory exam before taking the driving test and receiving your complete driver's license. The theory test is designed to evaluate your understanding of the road, the Highway Code, and much more. This, of course, violates the prevailing belief among students that the test only requires common sense. "Is driving theory test hard?" you might wonder.
To address this topic, we'll look at pass rates from the previous decade, talk about how the theory exam format has changed, and look at some of the questions you'll be asked. Let's get started!
Maybe you care about How To Book Theory Test?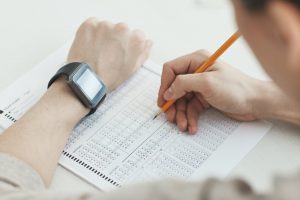 How hard is driving theory test?
The DVSA developed the theory exam to assess a learner driver's knowledge of the rules of the road, the Highway Code, and general road safety. A multiple-choice part and a danger perception test are presently included. (In the next part, you'll learn more about the test's format.) Given how subjective exam difficulty may vary from person to person, we determined that the best way to tell if the theory test is difficult or not is to look at pass rates.
With that in mind, we turned to the latest figures from the DVSA for answers.  Pass rates have been steadily declining since 2008/09, according to the DVSA, with rates starting at 65.4 percent in 2007/08 and dropping to 47.1 percent in 2019/20! It's more than enough to show that the theory exam is becoming more difficult. So, what is the reason for this?
It all comes down to two primary considerations in the end: how much the theory exam format has evolved over time as well as how learners choose to study for the theory test. Let's dig deeper into this.
What is the format of the driving theory test?
Because the theory test has been around since 1996, it's not unexpected that its format has had to evolve over time. The theory test's entire purpose is to ensure that students are up to speed on the most recent regulations of the road, which means it will unavoidably need to be revised. The DVSA has had to integrate new features throughout the years in order to keep the exam current.
1996: The theory test was first introduced in 1996. There were 35 multiple-choice questions in all. To pass, students needed to get a score of 30 out of 35. (In 2000, the test was converted to a computer format.)
2002: The DVSA included a section on hazard perception in 2002. It was made up of video clips, at least one of which showed a developing hazard.
2007: In 2007, the multiple-choice part was expanded from 35 to 50 questions. As a result, students needed a score of 43 out of 50 to pass (in addition to scoring 44 out of 75 to pass the hazard perception section).
2009: In 2009, the DVSA included case studies at the conclusion of the multiple-choice section to demonstrate how students may apply their knowledge to real-world situations. In 2011, further case studies were added.
2013: The DVSA updated its question bank in 2013 to ensure that questions from the real test did not appear in practice papers.
The theory test has gone a long way since 1996, as you can see. (And it will without a doubt do so in the future!) The DVSA has evolved to anticipate more and more from learners in terms of theoretical understanding as the years have passed. It's not enough for students to wing it when it comes to answering questions. They must thoroughly comprehend this information in order to use it in real-life situations and become safe road drivers.
You can try to visit our blog to get more information about How Long Does A Driving Theory Test Last?
Is the theory test getting harder?
It is undeniable that the theory exam format has changed over time, making it more difficult to pass. MoneySuperMarket recently conducted research in which 2,800 drivers were presented with sample questions from the theory exam. Only 11% of them were able to properly answer every question! Keep in mind that they were all fully licensed drivers—people who, you'd think, would require this information on a daily basis.
Of course, certain sections of the theory exam maybe a little too specialized for the average driver, which may explain why drivers struggle so much. Some of the inquiries, according to the AA, are "very obscure," such as what to do if a road user gets a burn following a car accident.
The challenge posed by the theory test, like every other test you may take in your life, maybe overcome with preparation. This leads us to the following point.
 Maybe you also need: UK Pass Mark For Theory Test
The theory test is undervalued by students
Let's face it, whether you're a learner or a licensed driver, you've probably heard from friends and relatives that passing the theory test is a piece of cake. Unfortunately, this is just one of the numerous fallacies about theory tests that the learner driver community promotes. It doesn't make sense. You won't be able to pass it if you don't revise.
Though you could get lucky and get a few questions right by accident, you won't be able to pass the theoretical test by blagging your way through it. It requires you to study the Highway Code attentively, get familiar with traffic signs, and learn about a variety of other important issues.
It makes no difference if you disagree with how precise any of the questions might be, or if you believe you'll never need to use any of the information in your daily driving. You must buckle down and put in the effort if you want to drive.
Is driving theory exam hard? Yes, but it's not impossible!
If we told you that the theory test was easy, we'd be lying. It isn't, as evidenced by the drop in pass rates. To pass, you'll need to memorize a lot of theoretical information and put in a lot of effort. That is to say, theoretically, it should imply that all students will be ready for any problem they may face on the road.
The DVSA has assured that all learner drivers have the skills and knowledge required to go behind the wheel of a car by making the theory exam difficult to pass and putting expiration dates on theory test pass certificates. Of course, if you prepare properly, it won't be nearly as difficult. So, instead of cutting shortcuts, begin revising!
Read more: Failing Theory Test. And Now What Could I Do?

10 tips for passing your theory test
To assist you, we've put up a list of our top ten tips for passing your theory exam.
Be prepared
Schedule your theory test
It may seem self-evident, but you must schedule your theory exam at one of the 160 test centers around the country. To discover your local testing center and schedule your appointment, go to the official government website.
Hit the books
You'll be given 50 multiple choice questions from a bank of over 1000 for the theory test, and you'll need to have at least 43 correct to pass. The good news is that the DVSA (Driving Standards Agency) has put up a theory test handbook that is jam-packed with helpful hints and practice problems. Make sure you have the most up-to-date copy and spend some time reviewing it.
Improve your hazard spotting skills
You'll go on to the hazard perception test when you've completed the multiple-choice questions. It consists of a series of video clips depicting various types of driving dangers. To make sure you're properly prepared, go to Drive iQ and use their interactive video clips to practice scanning the road effectively, spotting distractions, and keeping an eye out for bicycles.
Put in the time
Yes, there's no replacement for putting in the hours when it comes to revising. Your theory exam questions will be chosen at random, therefore you must be comfortable answering ANY of the questions in the DSA Theory Test Handbook – which totals roughly 1000!
Don't forget to work on your hazard perception as well. To pass the multiple-choice test, you must score 43 out of 50 and 44 out of 75 on the danger perception test. Ask friends and relatives to quiz you so you can practice answering under pressure. Keep in mind that you'll have 57 minutes to answer the 50 questions on the real test.
Take a practice exam
Do you believe you're prepared for your theory test? Try our Theory Test Practice to get familiarized with the questions as well as the format of the actual test.
You can reschedule your theory test up to three days before your test date if your mock test doesn't go as well as you had intended. If you're not sure you'll pass, it's advisable to accept a rain check and cram in some additional studying!
On the day
Give yourself plenty of time
If you've never gone to a theory test center before, give yourself plenty of time to get there and avoid unnecessary stress on the day of the exam. Remember to bring your photo for your provisional driver's license. On the day of your theory exam, you must have your photo card driver's license. You won't be able to take your exam if you forget it, and you'll still have to pay the test money.
Make the most of your practicing time
You get 15 minutes before your test to familiarize yourself with the touch screen and the question structure. Take your time, and if something doesn't appear to be operating well, raise it before starting your test.
Flag tricky questions
You'll have 57 minutes to complete the test and answer 50 multiple-choice questions. Are you stuck on a difficult problem? Don't be concerned. When you press the flag button, the question will be marked as unsolved, allowing you to return to it before the end of the exam.
Take a deep breath
Between the first and second parts of the test, you will get a 3-minute break. You've made it halfway through the test (YAY!) so take a rest, stretch at your workstation, and concentrate on the following section: danger perception.
Besides, you can learn more about Theory Test For Driving Instructor: A Step-By-Step Guide
Now you know the answer to "Is driving theory test hard?". In recent years, the DVLA has made things more difficult for new drivers, making passing the UK theory test a long shot. Whatever exam you're taking, the most important thing is to be confident and believe in yourself. The advice given here will assist you in preparing for and passing your driving theory exam. Regardless of whether you pass or fail, go through your study guide to see what sections you could have missed.